by Mikhail Karpenko
Introduction
We, at Elphel, are currently using proprietary software for schematic and PCB development and thus are not able to provide our customers with the "real" source files of our designs – pdf and gerber files only. Being free software and open hardware oriented company we would like to replace this software with open source analogues but were not able to accomplish this due to various limitations and inconveniences in design work-flow. We follow the progress in such projects as gEDA and KiCAD and made another attempt to use one them in our work. KiCAD seems to be the most promising design suite considering recent CERN contribution and active community support. I tried to design a simple element, a flexible printed circuit cable, using KiCAD and found out that the PCB design program lacks such useful feature as teardrops.
What are teardrops
Teardrops are often used to create mechanically stronger connections between tracks and pads/vias to prevent drill breakout during board manufacturing. This is particularly valuable when the design objects are small, as it was in my case. The figures below explain the problem:
Fig. 1 shows perfectly aligned drill hole but the final result (as on Fig. 2) can be far from perfect because of drill tool wandering or board stack misalignment during manufacturing. Relaxing specification or allowing drill breakout along the hole perimeter, as on Fig. 4, is not always possible. Adding teardrops (Fig. 3) in such cases is a good option.
The images below show misaligned drill holes on manufactured PCBs:
Adding new feature
The great advantage of any open source project is the possibility to add any required feature or fix bugs on your our. I cloned KiCAD repository and dived into the source code trying to add mock up implementation of teardrops. It took some time to get acquainted with class hierarchies and internal structures. Finally, I added new option to "Tools" menu which adds teardrops to currently selected track. Two types of teardrops are implemented by the moment: curved (github link) and straight (github link). The process of selection and results are shown on the screenshots: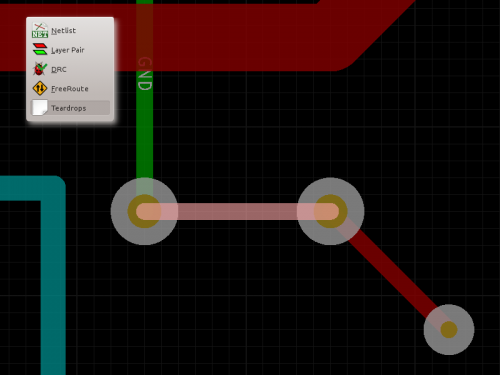 The straight teardrops are composed of two segments connecting tracks and vias. The curved teardrops are actually approximated with several short segments as KiCAD does not allow to place arcs on copper layers. There are several intentional limitations in current implementation:
teardrops are created for vias only
DRC rules are not taken into consideration during calculations
the ends of selected track must coincide with via center
no user adjustable settings
These limitations are caused by test nature of my source code and at the same time they define the fields of further development. The result obtained is good enough to be used in real applications.
Links:
https://www.flickr.com/photos/andresrueda/
https://www.flickr.com/photos/creative_stock/
https://git.elphel.com/Elphel/kicad-source-mirror